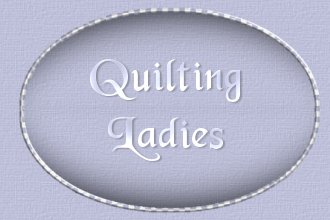 Welcome to the Quilitng Ladies Quilt Group.
If you like making and exchanging quilt sqaures then this is the group for you:)
We are a friendly group of ladies who enjoy making and sharing Quilt Squares :)
On these pages you will find a list of the Quilting Ladies members,
our Quilt Sheet, Special Quilt Squares for you to take to your site,
and the Quilting Ladies Quilt sheet.
Feel free to browse around and join the Quilting Ladies Club!









All the Graphics and Specialty Quilt Headers you see here at Quilting Ladies
are an Exclusive © Design made by Creations by Dezign
made solely for Quilting Ladies they are to remain here.
Quilting Ladies is not associated with any other Quilting Group.



Designed Exclusively for
~ Quilting Ladies ~
~ Quilting Group ~
by ~Diane~ © 2002 - Creations by Dezign